click on image for next slide
The Soul Tent: A Resurrection City Installation will be at the Mount Pleasant Library from May 15 - May 20th. The week will include live events with music and dialogue celebrating the 50th Anniversary of 1968, but also invites patrons to experience the soul tent throughout the day, every day.
The Soul Tent and Its History:
On May 12, 1968 the Dr. Martin Luther King Jr.'s Poor People's Campaign arrived in Washington D.C. Nearly 6,000 people descended on the National Mall and the 40-day encampment came to be known as Resurrection City. Caravans brought thousands of people: black civil rights activists and poor residents of the South, Puerto Ricans of New York, Chicano workers of the Southwest, whites of Appalachia, and American Indians of the West. They had come to the nation's capital to demand a dramatic redistribution of wealth put forth in an Economic Bill of Rights.
Resurrection City's Many Races Soul Center or Soul Tent became a site of cultural exchange where residents could celebrate shared experiences of struggle through music and and cultural expression. To celebrate the 50th anniversary of 1968 in Washington, D.C., the DC Public Library will revisit the legacy of Resurrection City's Soul Tent, and consider this historic struggle for justice in the context of today.
The Soul Tent will visit four DC Public Library locations beginning in May and include visual and audio displays, community storytelling, musical performances, listening sessions of speeches and music from Resurrection City '68, and poster making workshops. Recordings and photographs from DCPL's Special Collections and The Library of Congress American Folklife Center will be on view. Learn more about this history at libguides.dclibrary.org/1968
This project is supported by the HumanitiesDC Community Heritage Grant, The DC Public Library Foundation and The DCPL MICA Fellowship Project.
SOUL TENT SCHEDULE:
Mount Pleasant
May 14th through May 20th
Anacostia
June 3th - 9th
Woodridge
June 10th - 16th
Benning
June 17th - 24th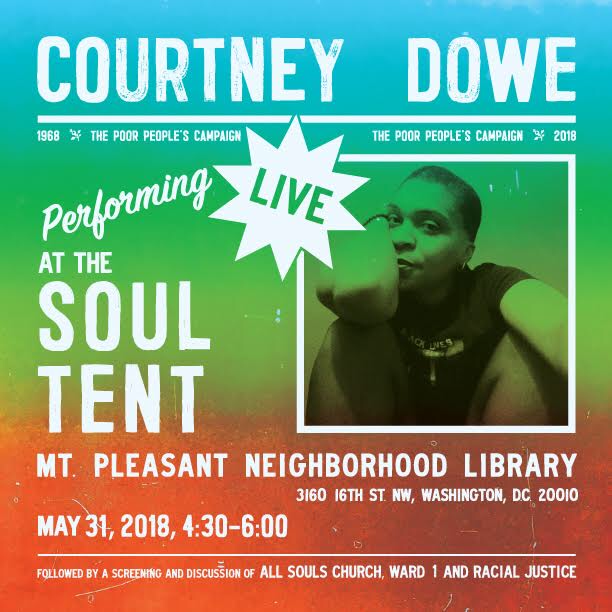 click on image for next slide